Research by Frederick & Oliver
Our News & Analysis
Reading the stock market can feel relentless, especially when looking to trade in markets that demand consistent and thorough revision. At Frederick & Oliver, we specialise in stock market research. We deliver need-to-know information, highlighting the benefits and consequences of industry actions that directly impact your portfolio.
Having access to trustworthy and relevant sources ensure that, even amongst your daily commitments, all decisions are informed decisions.
About City View
City View is your window into the stock market – delivering a snapshot that's relevant, easily digestible and reliable. Your City View update will include:
Morning Headlines
Company news and trading updates
Overnight analysis of US and Asian trading
Commodity and currency round-up
A look ahead at the day's key events
Sign Up to City View
To access the latest and most relevant market headlines for your portfolio, sign up to City View here.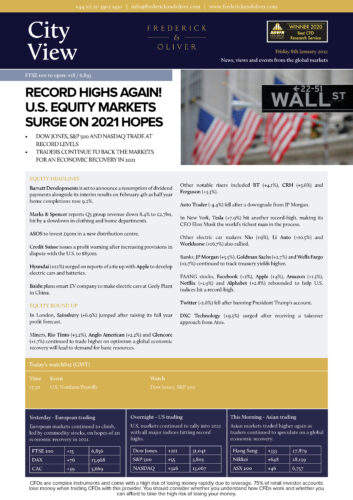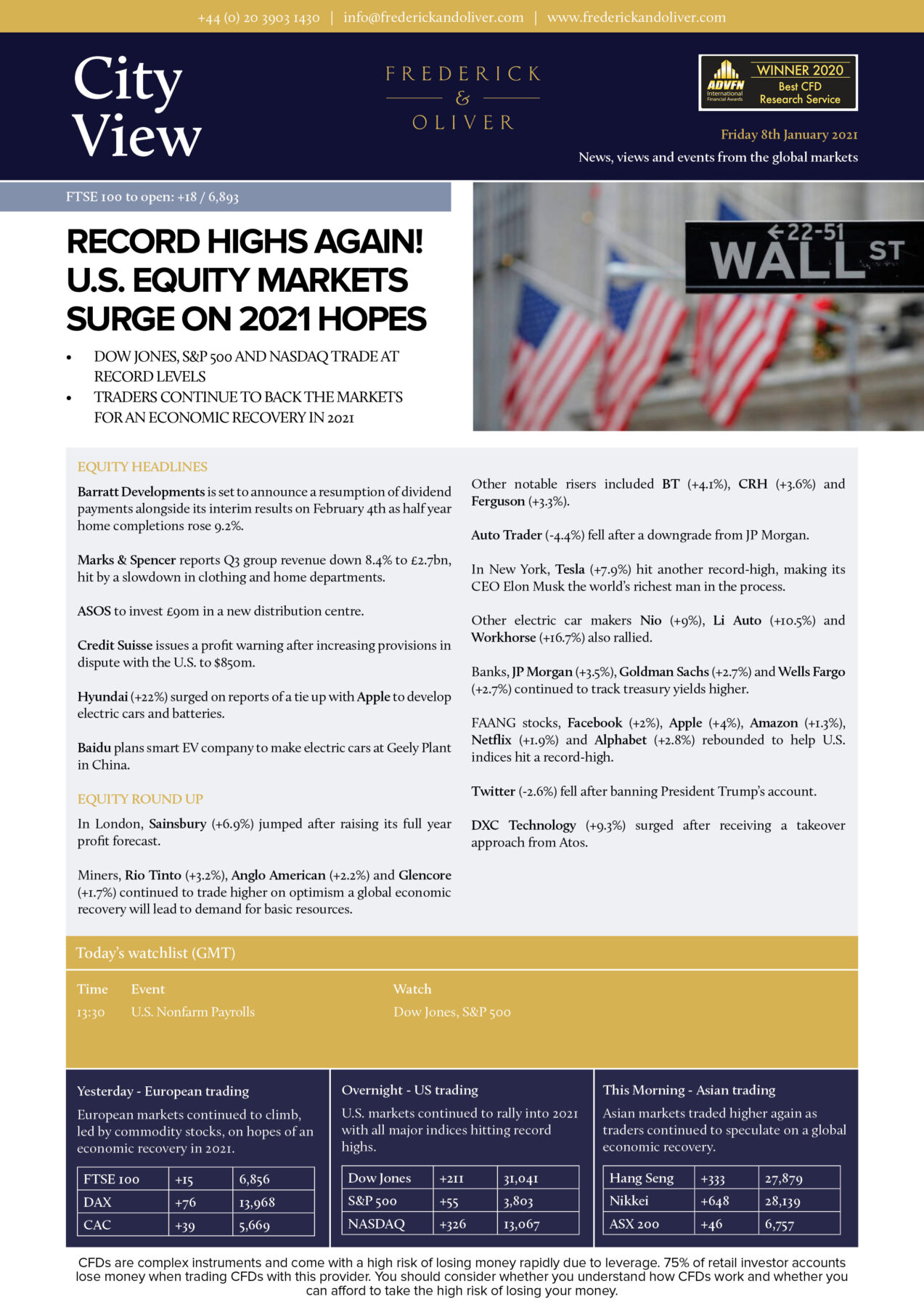 What Goes Up…
Complete the form below to
download our reports:
Top Picks 2023
Complete the form below to
download our reports:
Interest Rate Sensitive Stocks
Complete the form below to
download our reports:
Buy Low, Sell High
Complete the form below to
download our reports:
Frederick & Oliver's emphasis on providing an old fashioned, highly personalised customer service is very refreshing in this digital age.
Frederick & Oliver has an easy to use platform, lower commissions than some alternatives and good customer service. They also have easily understood year-end reports when it comes to making the tax return.
I have known the guys at Frederick & Oliver for over 10 years. They are far from a regular execution-only broker. They go out of their way to keep clients well informed of market developments and upcoming events. - Great service. Thank you.
I can highly recommend the services of Frederick & Oliver. This is a very professional company providing up to date guidance and relevant information.
Frederick & Oliver is the best CFD broker I have worked with. The team understands the markets, are responsive to market changes and quickly inform their investors. They understand me, my preferences and my weaknesses, tempering my natural gun-ho approach in periods of uncertainty.
Frederick & Oliver has provided me with an excellent service. They listen, understand what I need, and provide quality market information. There is always a person at the end of the phone, which adds huge value to the service.
I was totally new to stock trading. Six months on, I have been reassured by the team's safety-first approach. Access to the team is easy and fast, they are also quick to get in touch with important updates. I have introduced many friends to Frederick & Oliver who have given me the same positive feedback. Thank you guys.
The guys at Frederick & Oliver really care about their clients. I am kept up to date with market conditions throughout the day. Keep up the great work!
Breaking News
Receive influential news in a timely fashion.
Technical Analysis
Identify entry, exit and risk management levels.
Trade
Make informed trading decisions with Frederick & Oliver.